Blaketon has his hands full when an elderly archaeologist dies suspiciously and precious documents are stolen.
Full Summary
Edit
PC Rowan responds to an anonymous emergency call and find archaeologist Professor Brigstocke dead in his library and the house broken into. The professor was said to hide a treasure and Greengrass decides to find it. Clues lead to the ruins of Saint Columba's Abbey on the Ashfordly estate. But also Mary Secker, who is writing a book on 12th century monasteries, is interested in the ruins. Lord Ashfordly is hosting a fishing party and is not pleased to find fishing net and no fish in his river. Blaketon suspects Greengrass is behind it and when the old scoundrel enters the abbey to look for the treasure, Blaketon is close behind him. They both get trapped and Blaketon breaks a leg when part of the ruins cave in, and Greengrass lights a fire to keep him warm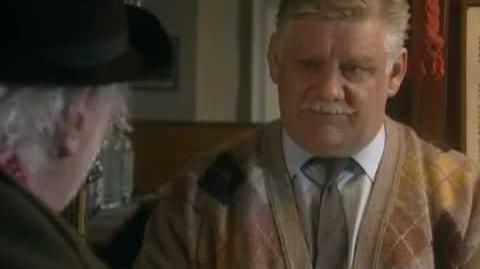 Ad blocker interference detected!
Wikia is a free-to-use site that makes money from advertising. We have a modified experience for viewers using ad blockers

Wikia is not accessible if you've made further modifications. Remove the custom ad blocker rule(s) and the page will load as expected.