DiscriptionEdit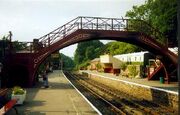 Goathland station plays Aidensfield station in the series. The station has featured a great deal in the programme, it's steam railway which is a popular attraction for visitors to the area plays an important part in Heartbeat. It is often the method of transport the characters use to and from Aidensfield. Regulars like Nick's Mum and Auntie Eileen usually arrive by train, and guest artists also tend to turn up and leave via the train. It's during Alex Ferrenby's return journey from London one time when the train crashes in one episode ('Rider's of the Storm') making it one of the most dramatic episodes. Nick even finds himself chasing Claude driving a runaway train in 'We're all Allies Really'! A dramatic episode in series 8 called 'Fire and Ashes' features the station in the emotional scene when Mike tells Maggie of Neil's death.
Ad blocker interference detected!
Wikia is a free-to-use site that makes money from advertising. We have a modified experience for viewers using ad blockers

Wikia is not accessible if you've made further modifications. Remove the custom ad blocker rule(s) and the page will load as expected.